Hello and welcome to the
Whimsy Stamps
June New rubber release Blog Hop!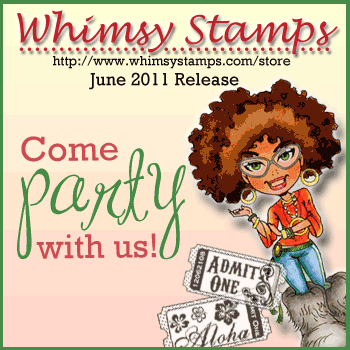 We have 15 New
Whimsy Stamps
plus 2 new wonderful dies to show you today! These new goodies are available to buy right now from the
Whimsy Stamps
Store along with all your Whimsy Favorites. We also have our wonderful Special guests joining us for this hop Beate Johns,Deb Routeledge, Deb Mitchell, Elaine Hughes!
The
Whimsy Stamps
Design Team have been sneak peeking these fabulous stamps for the past five days, So if you missed them be sure to hop on over to the
Whimsy Stamps Inspirations Blog
for some more inspirations!
Here is the full list of the wonderful stamps and dies being released today:
Bart's BBQ (Crissy Armstrong)
Fairy Day Dreams (Crissy Armstrong)
Journey into the Sea (Crissy Armstrong)
Garden Bird House (Meljen's Designs)
Garden Fence (Meljen's Designs)
Mailed with Love (Meljen's Designs)
Sick Little Bear (Meljen's Designs)
Alice Chains (Kenny K)
Bling Baby (Kenny K)
Showgirl (Kenny K)
Surfer Dude (Kenny K)
The Good Life Tickets (Raindrop Echo Designs)
Into the Farm Background (Raindrop Echo Designs)
Summer Letter Seals (Raindrop Echo Designs)
Thank You Tiles (Raindrop Echo Designs)
Cloud Die Set (Raindrop Echo Designs)
Hot Air Balloon Die (Raindrop Echo Designs)
If you would like to participate in the blog Hop you should have arrived from
MINNAS
Blog, if you just stopped by and would like to begin the Hop please start at the beginning at
Chris's
Blog.
The hop starts today (Wednesday June 15th at noon EST) and ends on Wednesday June 22 at noon EST
As the blog hop is rather long, we are going to have several opportunities throughout the hop for hoppers to win prizes. There will also be candy stops every few blogs where we will be giving away one of the new release stamps.
For my Blog Hop creation I used Alice Chains by Kenny K, Did you see this creation in the Magazine?? I colored my image with Copic Markers. I wanted to use some dark colors and I really like how this deep purple turned out! I also used the stamp image from
Time Flies
and the
Party Mini Letter Seals sentiments
.
My papers are
Maja Design
(Love these) and my Flowers are from
IamRoses
.
You found it this is a Prize Stop, please leave your link below with Mr.Linky for a chance to win Mailed With Love and Garden Fence, Good Luck!!!
Now please continue the hop to
Iris's Blog
so you can see what awesome creation she had done!!
Whimsy Stamps is starting a new adventure and we want you to take the journey with us! the first issue of the Whimsy Stamps Inspirations Magazine will be debuting alongside our June rubber stamps and dies. We are excited to bring to you never-before-seen creations by the design team and by some fantastic Whimsy customers. In a continuous effort to provide you with creative inspiration, this issue will be free and available to everyone!!